Reading the Alhambra
Chapter 4
Based on a transcript from the documentary: Reading the Alhambra. In the posting, we study the fundamental of kufic scripts that forms the artistic inscriptions on the walls of Alhambra.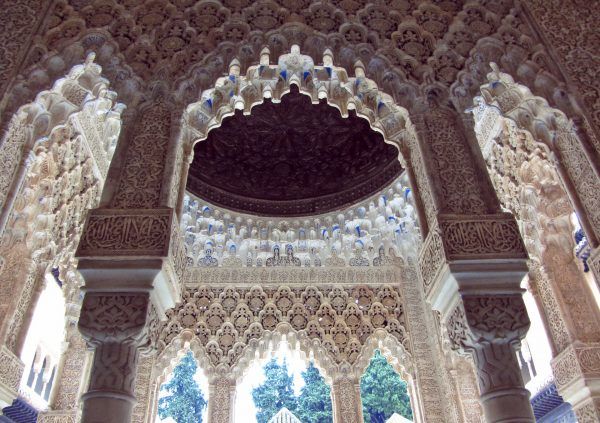 While most of the poems are inscribed in cursive lettering, also outstanding is the use in the Alhambra of richly ornamental Kufic calligraphy, in many of the exclamatory phrases and sentences. The decorative elements of foliat and floral motifs which, by then, had already been incorporated into the repertoire of Kufic scripts, were even further embellished here with swashes and upward strokes in the shape of columns, platen, plane and scalloped arches, and enjambment. All of which create meta architectural designs which while they cloud the walls, evoke at the same time cunningly, attractive imaginary structures. These are the architectural calligram.
The simplest of these use one of the most frequently repeated expressions in the Alhambra is "Barakah" – a blessing. The second of the two letters of the word form an arch which accommodates the first two in a symmetrical construction. Similar calagrams to this fill the walls of the Alhambra, even in its most hidden corners.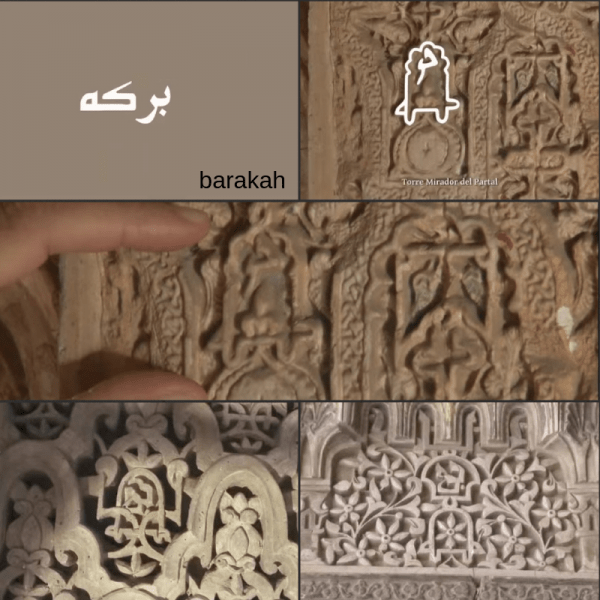 "Yuum" – good fortune, is also to be seen wherever you look, appearing in friezes of the Mocarabes and cornices interspersed between rhomboid designs and accompanying shields or other expressions and every often repeated in mirror image.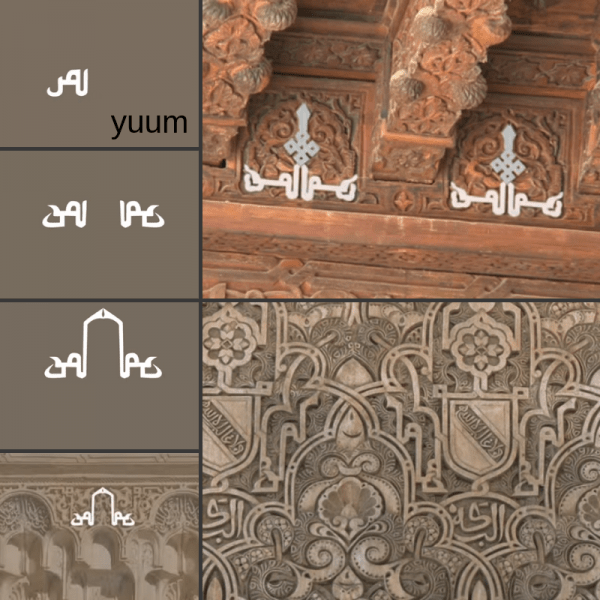 In the Hall of Comares, for instance, "God provides in all adversity" written here with Allah at the bottom and the letters of Allah being extended upwards into plaited peaks and arches that circumscribed the rest of the composition. All of which is set off by foliat motifs.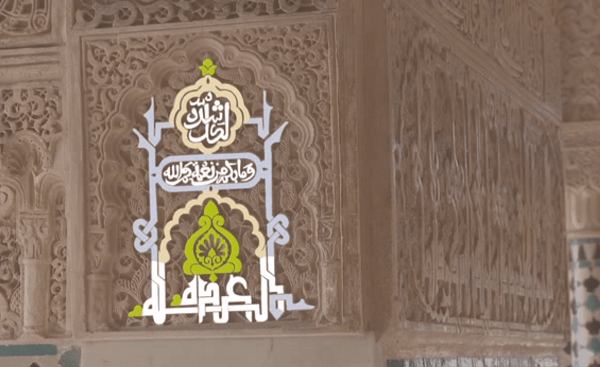 And, above the capital for the Mexuar where you will see another commonly used expression in the Alhambra – Perpetual Happiness, forming three scalloped arches.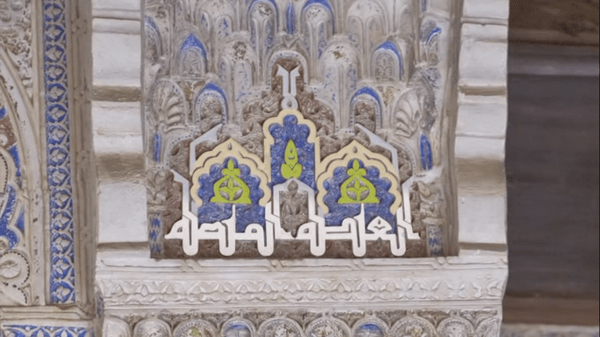 Sometimes "al-ghibta" – happiness it is written in Kufic at the bottom from whence upward strokes create plaited peaks, a false arch and a cartouche. The whole design is filled in with decorative foliat motifs.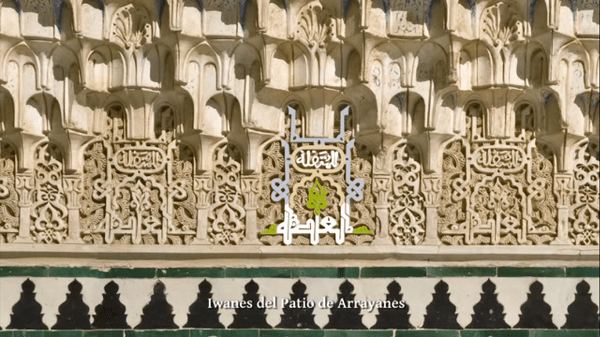 As you can see, the inscriptions created with the basis of Kufic script is done with so much of sophistication. Truly is a work of art, a work of poetry… Surely, by now, you must be aspired by its wisdom. Seeing them with your own eyes will be a one of a lifetime experience.
In the next and final chapter, we will observe the complexity of the calligrams, incorporating both kufic scripts and cursive scripts.
Note: All text and images are from the documentary of ´Reading the Alhambra´ except stated otherwise.
You may also like check our videos
Youtube
Check our
Alhambra Spain (Andalusia) Muslim Tours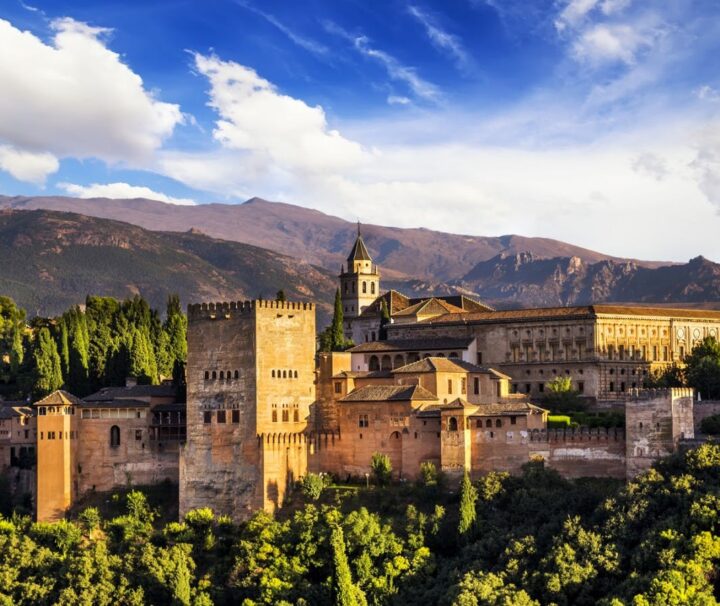 Cordoba | Seville | Ronda | Granada | Alhambra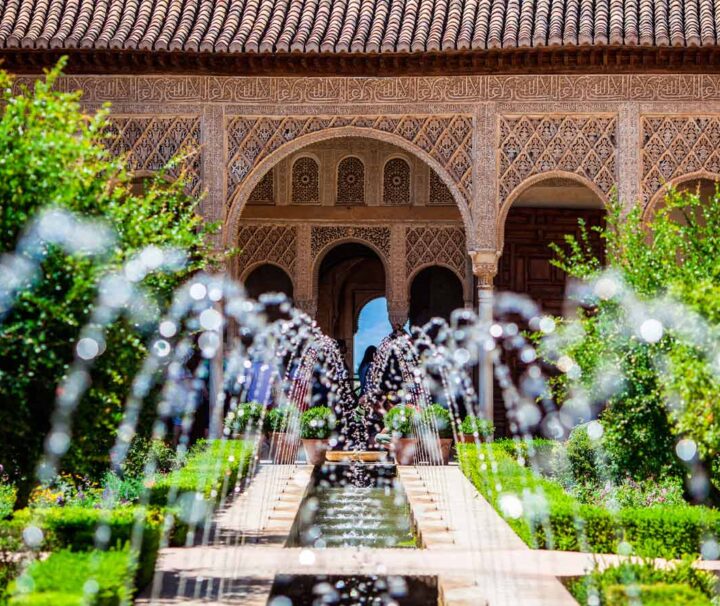 Includes Alhambra & Generalife Tickets + Muslim Tour Guide